MedtecLIVE with T4M and MedtecSUMMIT Newsroom
Last time with no handshakes: Looking back at MedtecLIVE with Director Christopher Boss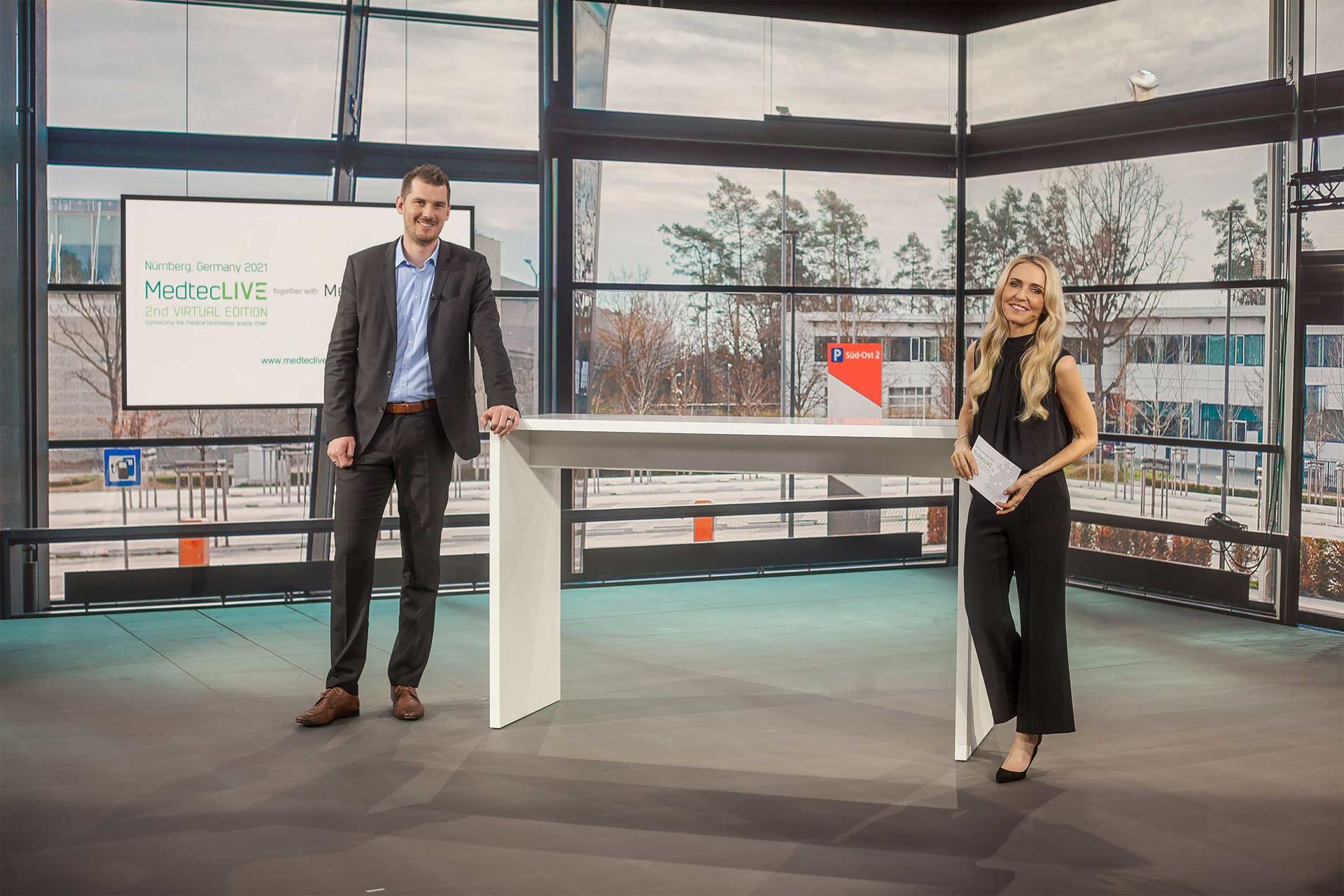 The second Virtual Edition of MedtecLIVE, the place to be for the European medical technology scene, has come to an end. The figures speak for themselves, with 2,000 participants, 150 exhibitors and 80 speakers from Germany and abroad. How does event director Chris Boss sum it up? We talked with him to find out.
Christopher Boss has been Executive Director Exhibitions at NürnbergMesse for almost six years, and his general position is "I'm happy if our participants are". Despite the challenge that MedtecLIVE had to be held in virtual form for a second time because of Covid-19, initial feedback was highly positive.
Sophisticated platform
 "We've gone a step further compared to our first digital event, and on that basis I can provide a very positive summary," Boss observes. "But of course we hope to be able to hold in-person exhibitions here in this fine hall again in the future." Even if the organizers and all the participants are looking forward to 'being able to shake hands again', the virtual exhibition also had its advantages. These were due mainly to the highly sophisticated and integrated platform and a comprehensive setting that tried, despite the restrictions, to create an exhibition experience for the guests and participants without cutting any corners.
Positive: Fast responses
Feedback was also very good regarding the fast response time, since all the necessary information on innovations and fields of activity was directly visible and accessible, so it was possible to perform dedicated searches for potential customers. One slight disadvantage was that sitting behind a computer meant the viewer's attention was not entirely focused on the exhibition, as would happen with a traditional in-person event. Boss quotes one of the exhibitors: "If I'm at the exhibition for three days, then I'm there for three days and have nothing else on my mind."
Another achievement was to provide a platform for medical technology start-ups, which play a big part in the industry in the innovation field in particular. A start-up contest gave eight different firms the opportunity to present their technologies. "Even if the nature of the competition meant there was only one winner, everyone won in the end," comments Hans Jürgen Stein, who took part in the contest with his company Mentalis. "We were able to present our ideas to a broad and professionally skilled public, and make our brand better known."
Digital expansions to remain
For the next MedtecLIVE, exhibition organizer Boss hopes it will be possible to meet 'in real life' once again, since it tends to be more difficult to give presentations, address people directly and have chance meetings online, for example. Even so, he is confident that the digital components will be retained in the "exhibition of the future". For 2022 he would like to combine the best of both worlds. For example, bringing together the charm of a traditional exhibition with the efficiency of the virtual version. And the range of themes will be expanded regardless.  
MedtecLIVE 2022: Save the date and follow us for up-to-date information on Twitter: https://twitter.com/MedtecLIVE and LinkedIn: https://www.linkedin.com/company/medteclive.