MedtecLIVE with T4M and MedtecSUMMIT Newsroom
Smart processes mean smart medical products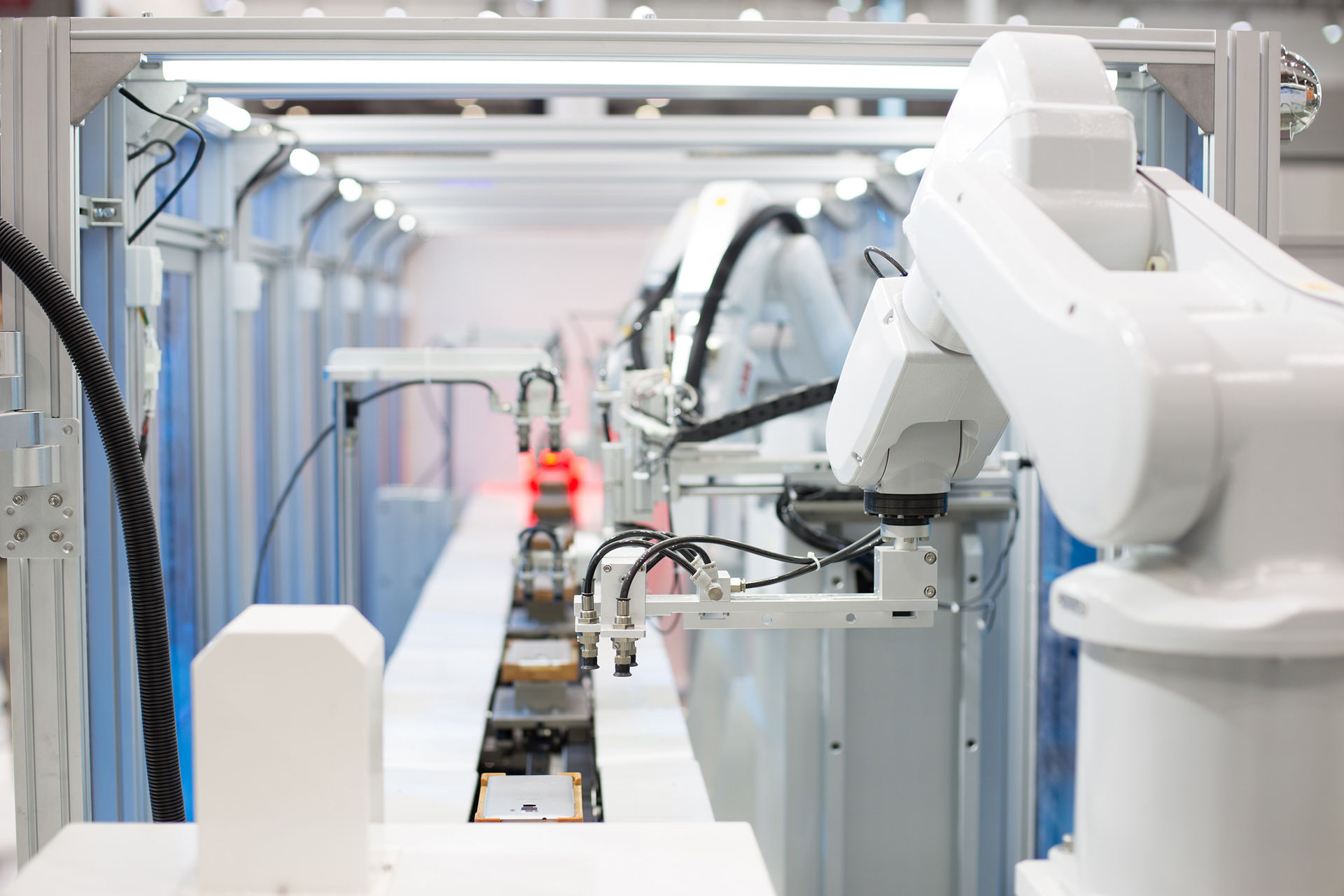 Will smart manufacturing turn medical technology on its head?
"Networked production of medical technology systems, cost-effectively and in top quality" is one of the focal points for sponsorship by the German Ministry of Education and Research. It sounds a lot like Industrie 4.0, the smart system for networked production. The networking concept can be extended to the manufacture of customised medical products. What opportunities does networked, smart manufacturing offer? And how mature are these new technological opportunities? MedtecLIVE, the international exhibition for the supply and manufacturing sector of medical technology, has the answers.
Even if the Ministry expressly highlights process innovation in medical technology as an object for sponsorship, a glance at the list of sponsored projects shows a clear predominance of product innovation, in other words, sponsorship for developing individual medical products. But when it comes to process innovation, there is still a lot of potential to be leveraged. A study by the consulting firm Roland Berger and the industrial association Spectaris identifies major opportunities to be had from the networking of medical products and the use of AI in particular. For the production processes in the German medical technology industry, which is dominated by small and medium-sized enterprises, the networking of machines – the Internet of Things – is still in its infancy. This is an area where Smart Manufacturing has a lot of potential.
For further information on the sponsorship programme, see the German Ministry of Education and Research (BMBF) stand (Hall 10, Stand 321) at MedtecLIVE.
"Customised medical products, in other words, products individually tailored to the patient, are one of the major future themes of the healthcare industry," says Alexander Stein, Director MedtecLIVE at NürnbergMesse. "The technologies for manufacturing such products in smart factories already exist. What we need to do now is create the best possible network between process know-how, automation systems and medical product manufacturers to increase the speed of innovation. That's what MedtecLIVE aims to achieve as a platform for interaction between all the players in the value chain." The international exhibition and the integrated Medtech Summit Congress & Partnering will bring together researchers, developers, suppliers and manufacturers in Nuremberg from 31 March to 2 April.
Digital information flow between supplier and manufacturer
Many manufacturers perceive a challenge in producing relatively small batch sizes. "We produce components in batches of hundreds or thousands," says Dr Stephan Hüwel of system technology manufacturer Jüke, an active member of the Exhibition Advisory Board of MedtecLIVE. The production data is now fully digitalised: all the processes from purchasing and development to production and Quality Management are supported by a central ERP system. Digital assembly instructions are available if employees require them, and QM testing is also documented digitally. Production is automated to only a small degree, however. But as Hüwel comments: "Industrie 4.0 is a topic of interest for our customers. We manufacture mass-produced products, which can then be individually configured. That's why we are also incorporating many more special functions into the components, including communication interfaces for data transfer to other devices."
Jüke Systemtechnik at MedtecLIVE: Hall 10, Stand 334
AI delivers smart diagnostics
Professor Philipp Gölzer of Fraunhofer SCS in Nuremberg also emphasises that the larger companies will be the ones to initially benefit from Smart Manufacturing. Gölzer, who is also Professor of Digital Factories and Material Flow Systems at Nuremberg University of Technology, comments: "For smaller companies, introducing Smart Manufacturing is a major hurdle. After all, the use of Smart Manufacturing implies approaches at multiple levels. That means the process chain must be reinvented and implemented again. It comprises many different aspects." It would be easier to implement Artificial Intelligence within medical technology devices. "I believe AI is also feasible at a smaller scale," Gölzer says. In this connection he emphasises a second context for Smart Manufacturing: networking medical devices to achieve the smart automation of diagnostics, and thus ultimately generate reports in the same way. If a system can reach a decision on its own, e.g. a computed tomography system that evaluates its own images using AI, this is also a smart process. "Smart Manufacturing means that elements of production or of systems are made intelligent," says Gölzer. "That means they are able to make their own decisions, optimise their processes, and function autonomously."
Proven solutions in dentistry
Smart production processes have been used for many years in dentistry: the dentist supplies image data, and then a crown is manufactured in a matter of minutes using selective laser melting. This makes work much easier for dental technicians. "Thanks to Smart Manufacturing, the level of product individuality is not a problem for production or logistics," comments Alexandros Lagaris, Managing Director of LAC Laser Add Center GmbH in the Bavarian town of Selb. "The data is consigned digitally. We concentrate on working with sizeable suppliers, to ensure we have clear procurement processes."
From CT scan to personalised implant
Although in dentistry, at least, dental technicians have been manufacturing individual bridges and crowns for some time, standard solutions still dominate in most other medical products. Today, a large variety of models and sizes ensures that medical products will be a close fit for the patient. From artificial hip joints to a prosthetic foot, standard products will meet many requirements, while the manufacture of individual prostheses is time-consuming and costly. Smart Manufacturing offers a solution to this conflict between costs on one hand and a perfect fit on the other. Here are two examples.
Based on its own Product Lifecycle Management (PLM) Software, Siemens has developed a fully digitalised process for the manufacture of endoprostheses. A CT scan and MRI data are combined to create a virtual 3D model of the joint to be replaced. Using a web-based system, the surgeon then plans the appropriate treatment and opts for either a standard endoprosthesis or a customised implant. If special instruments requiring individual manufacture are needed for the surgery, this can also be taken into consideration at the surgery planning stage. And if a customised implant has to be prepared, CAD data is automatically generated and can be worked up in turn for the CNC machine. The material procurement process can begin in parallel, the implant is scheduled as part of the production sequence, and the machine data is transmitted to the machine in good time. Quality Control is also correctly documented within the PLM system, which serves as the link between the hospital and the manufacturer: all communications and data flows are organized at a central level, the production data is worked up and is then transmitted to the manufacturing unit.
Unlike a standard implant, in which the bone must be adapted to accommodate the implant, the customised implant is a perfect fit for the patient's anatomy. PLM systems, as a central platform for Smart Manufacturing, also help the manufacturer to observe regulatory requirements and document compliance.
Documentation and compliance, particularly with regard to the MDR, will also be a topic at MedTech Summit Congress & Partnering, held in parallel with MedtecLIVE. 
Sponsored process innovation
"In the future, we want to offer the opportunity to have customised orthoses and prostheses manufactured overnight," says Manuel Opitz, CEO of Munich-based medical technology company Mecuris. The company has developed a digital "workshop", the Mecuris Solution Platform, for the purpose. A 3D scan provides the starting point for creating the orthosis, replacing a traditional plaster impression. The user's measurements are read in, and incorrect posture details are corrected either automatically, by the system, or manually, by the orthopaedic technician. The orthopaedic technician works with the patient to select the preferred design, and then sends the data to a local printing centre specialised in Additive Manufacturing, which accurately manufactures the item. Following a quality check by Mecuris, the orthopaedic technician receives the prosthesis, which then undergoes final adjustment. The time invested by the orthopaedic technician in creating an orthosis in the digital workshop is much less than the traditional method of manufacture would require. "In no way does 3D printing take the place of the physical workshop, still less the technical knowledge of the orthopaedic technician," Opitz comments. "But in two to three years, it will account for a significant proportion of production."
Mecuris has thus achieved precisely what Professor Gölzer describes as the key to Smart Manufacturing: the company has reshaped the process chain for orthosis manufacture and implemented a completely new manufacturing process. To ensure the 3D-printed orthoses can cope with the mechanical stresses of day-to-day use by the patient, the orthopaedic technician reinforces them individually on the spot using thermoplastic tape. This is a genuine process innovation, which has also made it onto the sponsorship list of the German Ministry of Education and Research. This collaboration between an SME and the Kaiserslautern University of Technology clearly illustrates the impressive opportunities offered by Smart Manufacturing for SMEs in medical technology.
Background: What is Smart Manufacturing?
Smart Manufacturing is a technological concept built around networking. Machines are networked together via the Internet, i.e. the Internet of Things. They share data and make use of data analyses to optimise production autonomously. The ideal outcome is a manufacturing system offering autonomous operation. Based on the comprehensive data that is available, Smart Manufacturing enables preventive maintenance for individual units. Smart Manufacturing systems are also able to order raw materials automatically when supplies are running low, allocate production orders to devices with more capacity available, and prepare distribution networks when an order is received. As a result, products can be manufactured fully automatically down to a batch size of one.
How Smart Manufacturing can drive forward the development and production of medical technology will also be a topic at MedTech Summit Congress & Partnering, held in parallel with MedtecLIVE. This highly regarded international congress is open to all exhibition participants in 2020, and will facilitate interaction between researchers and users with an eye to the future. More on the MedTech Summit.
Photo: Dr. Stephan Hüwel, Jüke Systemtechnik (left) and Manuel Opitz, Mecuris // Copyright: Jüke/Mecuris