MedtecLIVE with T4M and MedtecSUMMIT Newsroom
MedtecLIVE 2021: Aiming for success with online features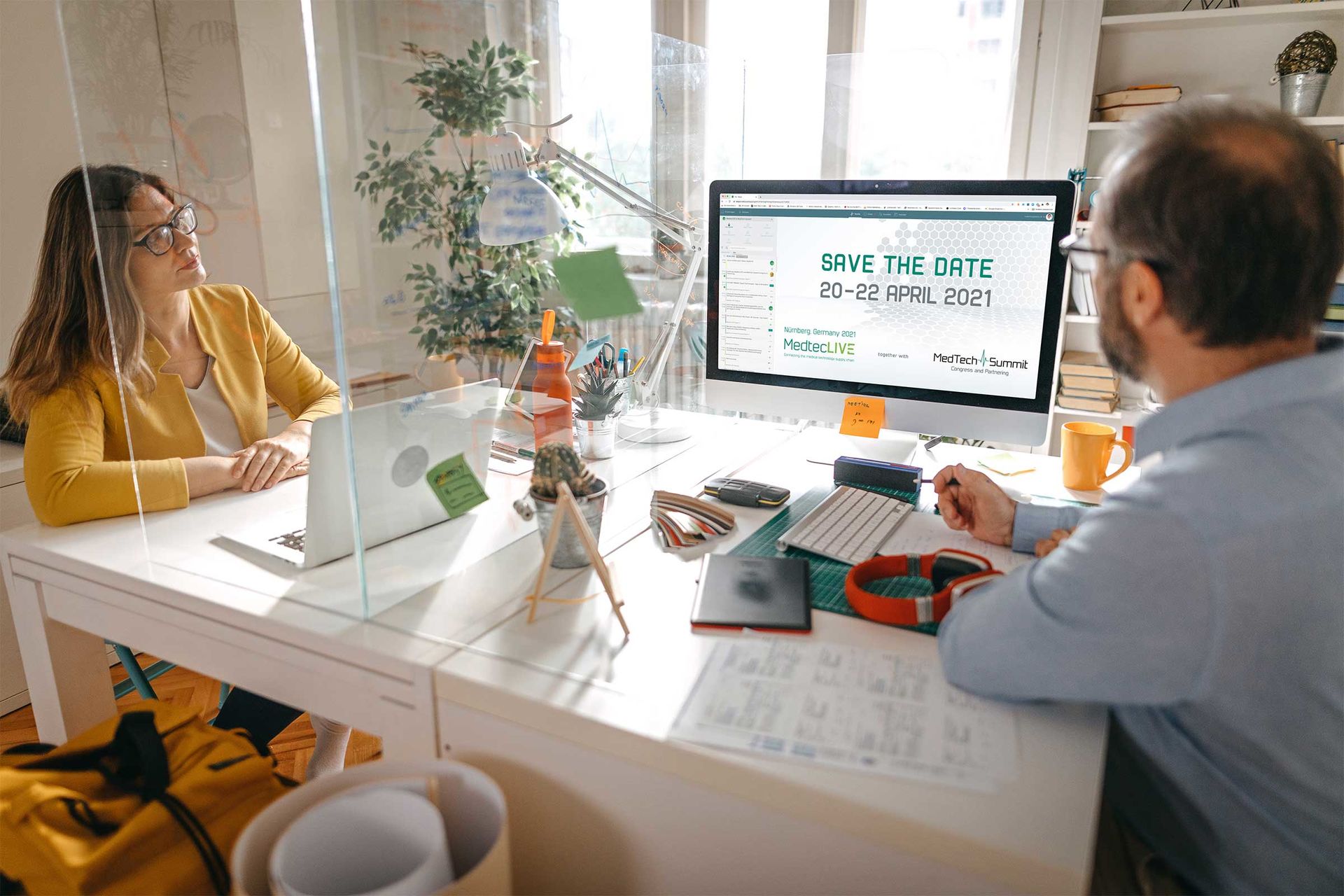 When it became clear in April 2020 that it would not be possible to hold MedtecLIVE on account of COVID-19, even following a postponement, there was no time to lose. At short notice, the exhibition was switched to a purely digital form. As its first digital event, MedtecLIVE 2020 was not only a pilot project but also a pioneering one for NürnbergMesse. It was a great success: with more than 3,000 registrations, not only did the number of visitors exceed the expectations of the experiment, as Christopher Boss, Director MedtecLIVE, describes it, but the feedback from participants was also extremely positive. In the shortest possible time, NürnbergMesse had succeeded in creating a virtual platform where thousands could interact. The outcome of the virtual MedtecLIVE 2020: lively, virtual interaction, new contacts and satisfied participants.
A virtual event… again
With the 2nd Virtual Edition, MedtecLIVE 2021 and MedtecSUMMIT will once again make use of digital features Since valuable leads play such an important role in any exhibition, it is important to consider how to ensure exhibitors do not miss out in this regard in the virtual format.
Generating leads is not the only driving force behind participating in exhibitions, congresses, and the like: players in a high-tech field like medical technology are constantly on the lookout for opportunities to interact and engage in lively discussion both within and beyond their own environment. This input generally takes place at busy events such as exhibitions and congresses. Although digital events can fill a gap, there are a few "side effects": the live experience that affects all the senses, the personal, physical interaction, are missing, and many miss the opportunity for chance meetings at the periphery of the main event, between the lunch buffet, the evening event, the lecture stage and the exhibition stands.
Online features: exhibit with more focus and data support
"The exhibition and event sector is currently in a state of transition, and the level of innovation in the market is very high," observes Felix Josephi, Managing Director of digital event agency PIRATEx and an online event pioneer. "Digital experiences and platforms are being reinvented. Even the reasons why exhibitors take part in events are being questioned and redefined." In an online environment it is much more important to work with a focus on targets and on data. Digital platforms enable exhibitors to place attractions deliberately and thus generate leads more efficiently. Josephi expressly notes that "it's all about generating fewer, but better-quality leads. As a proactive exhibitor, I can turn up my digital volume in areas where it makes strategic sense for me."
Digital benefits are here to stay
Switching to (partially) digital events involves a lot of effort: the infrastructure must be set up, content must be designed and created, and employees must be brought on board. Is this effort worthwhile for the long term? Will the end of the pandemic not also mean the end of digital exhibitions and events? Christopher Boss, Executive Director Exhibitions at NürnbergMesse and Director MedtecLIVE, can see the complexity underlying this question:
"Digitalization hasn't just been for its own sake. Even after the pandemic, on-site events will look different to how we're accustomed to seeing them. Although the interpersonal factor will continue to be experienced mainly at an analogue level, the content aspects of our exhibitions, in particular, will continue to become more digital. Exhibition designs will change fundamentally." Thus, for example, Medtech experts from around the world can attend particular lectures or conferences by remote, whereas they would otherwise have had to miss them.
The digital features help to expand events in terms of both time and location. Video recordings of the presentations and discussion rounds will remain accessible online even once MedtecLIVE 2021 is over. "We are creating a platform with a range that goes beyond that of a regular exhibition," Boss observes. "That applies to both visitors and exhibitors: 54 of a total of 153 digital exhibitors at MedtecLIVE 2020 were completely new exhibitors. And we were able to welcome visitors from a total of 65 countries at the first virtual MedtecLIVE."
"Google Analytics showed us that many of the website visitors came to our website via talque [the digital platform for MedtecLIVE]," says Catherine Higginson, Marketing & Communications Manager of Climedo Health, an exhibitor at MedtecLIVE 2020. The virtual exhibition stand and the technical opportunities it offered, like integrating videos and screenshots, convinced them more than anything of the value of the platform. "We even have a few contacts with whom we are currently following up regarding potential cooperation," Higginson adds. The concept of the digital exhibition for medical technology also proved its value in terms of generating leads for exhibitors at MedtecLIVE 2020. And with the right tools these leads can be tracked more accurately than ever in a purely digital environment.
Preparation
Whether it takes the form of an on-site event, a hybrid event or a purely digital one, good preparation is everything when it comes to maximizing the benefit in terms of interested contacts and valuable leads. Compared to regular on-site exhibitions, there is a benefit in dealing in advance with the opportunities the platform offers. Employees, particularly those in marketing and sales, have to be able to respond to incoming enquiries and messages at all times during the digital event. In most cases, visitors – and thus potential customers – will not make the effort to follow up a chat message on the online platform by sending an email to a company address. "It is essential to have online-savvy employees involved," asserts Katrin Taepke, editor of the "MICEstens digital" blog and expert on all event-related matters. "Otherwise there is the risk that opportunities to make important contacts and engage in important interaction will be lost because of technical difficulties."
Like other experts, Boss also defines the degree of success with hybrid networking based on one's own activities on virtual platforms: "If you want to generate effective leads at a virtual exhibition, you can't be involved with other things at the same time. Just like when you're sitting in your office and you're strongly tempted to work on other tasks, the success of virtual participation depends on your own activity and valuable, appropriately prepared content." To lend exhibitors a hand in this area, MedtecLIVE offers seminars and sales training sessions on all aspects of successfully attending and marketing at digital exhibitions, since virtual exhibitions differ fundamentally from the exhibitions exhibitors and visitors have known for decades. The portfolio of MedtecLIVE 2021 will also incorporate a number of functions expressly developed for interacting with contacts, such as the matchmaking function which brings participants together based on their interests, problems and solutions, and the opportunity to start a spontaneous discussion round at any time.
Attractions in the right places
The actual challenge facing many exhibitors in digital and hybrid formats lies in structuring their presence and communication. In addition to the aim of highlighting their own virtual profile, the balancing act between "generating attention" and "too much advertising" must be mastered.
Participants must select their own approach strategically: an objective approach, based on content and two-way interaction, is the crucial factor for successful networking on digital platforms. The considered placing of calls to action (CTAs) at the end of a lecture, at the international MedtecSUMMIT, for example, or during a presentation, is more beneficial than pushing participants to download a document.
At the end of the day the important thing is to generate high-quality leads and establish valuable contacts. Not every visitor is relevant to your business. By concentrating on buyer personas carefully defined in advance, it will be possible to achieve a significant improvement in lead efficiency at hybrid exhibitions. Companies can use the matchmaking tool to contact the right partners and offer to help with any questions or problems they may have.
The extensive lecture programme is one of the major strengths of MedtecLIVE, especially given the top-quality sessions at the MedtecSUMMIT. The congress, with its scientific focus, is an established element of MedtecLIVE. Exhibitors can also contribute to the lecture programme: for online visitors, in particular, the lectures are an important starting point from which, if they are interested, they can obtain further information from the exhibitor profiles or through contact enquiries. To assist, MedtecLIVE offers elevator pitches that give all exhibitors the chance to give a one-minute presentation to the public, both in person and digitally. This is the start of a customer journey that reflects the focus of MedtecLIVE on innovation and interaction: taking innovations and ideas as a starting point, participants establish new contacts and work together to take their business forward.
A guide to virtual networking
To be best prepared, and to obtain many promising leads as a result, it is important to observe the following ten points for virtual networking at exhibitions such as MedtecLIVE:
Infrastructure is the basis for digital interaction. A stable network connection and the appropriate hardware – including microphones and webcams – are essential.
The secret lies in the preparation. Appealing and valuable content will attract digital visitors to your virtual profile.
Programmes offered by the organizers such as sales training sessions or other courses help exhibitors and their employees to prepare for digital exhibition features.
The objectives of participating in exhibitions and the associated key performance indicators (KPIs) should be clearly defined in advance. Analytical tools like Google Analytics can help with evaluation after the event.
Online-savvy employees with expertise are essential. They should not be distracted by other tasks during the event. To create a sense of togetherness at the exhibition, staying together in one meeting room is recommended, for example.
Turn up your own "digital volume". Being proactive and posing stimulating discussion questions are both ways to generate attention. Campaigns on your own channels such as LinkedIn or Twitter or via email attract customers to the digital exhibition stand and get your brands talked about.
Don't push the advertising. Additional information about products should be offered only if the other party shows express interest.
Familiarize yourself with all the functions of the digital exhibition platforms such as "Matchmaking", "Elevator Pitch" and discussion rounds at an early stage, and make use of them.
Practise community thinking: support from other exhibitors and interested visitors, or a contribution in the form of a lecture, helps to build team spirit (and your own role as an expert).
Don't forget to have fun. Chats and video calls make interaction more appealing – and a pleasant conversation is one you will remember better.
MedtecLIVE & SUMMIT
The combined MedtecLIVE trade fair and MedtecSUMMIT Congress & Partnering event is a leading networking platform for the international medical technology sector. The 2nd virtual edition takes place online from 20 to 22 April 2021. The focus is on innovative products, solutions and services along the entire medical technology manufacturing chain. Companies, associations and institutions gather at MedtecLIVE to make contacts, share ideas and create new innovations. At the renowned MedtecSUMMIT Congress & Partnering event, manufacturers, end-users and researchers discuss future developments from an interdisciplinary perspective. MedtecLIVE. Industry network Forum MedTech Pharma is the institutional sponsor of MedtecLIVE and MedtecSUMMIT.